«
Rome

/

Hotel Residence Palazzo al Velabro
Hotel Residence Palazzo al Velabro
Rome, Italy
Now fully renovated, the Residence Palazzo al Velabro is a marvellous apartment-house in the heart of Rome, surrounded by a green area, located between the Circus Maximus, Palatino Hill and Campidoglio Hill. The XVII century building overviews the beautiful square Piazza Bocca delle Verità with the Temple of Vesta and the fourth century Arch of Giano.
Next to the Residence there is the church of San Giorgio al Velabro, one of the oldest churches in town. Nearby lays the impressive archaeological area of the Roman Forum. Walking only few meters away from our Residence, you will find yourself surrounded by the secret treasures of the Eternal City.
The Residence offers 35 apartments which are the ideal accommodations to enjoy a comfortable stay aimed to uncover the beauties of the city in a quite central area, only few meters away from the business centre, shopping areas and gastronomic delights. The Residence Palazzo al Velabro offers many types of apartments designed to please both business and leisure travelers.
Apartments offer space and flexibility, and has many units suitable for families. All of the apartments are equipped with a direct line and Wi-Fi internet connection can be easily accessed everywhere. Those who do not bring a notebook an internet station with printer is always available in the hall. Apartments are also equipped with other luxuries such as air conditioning, heating, satellite, and all linens. Also the kitchen is fully equipped. Every apartment is furnished in a stylish but functional fashion, with tables, chairs, desks, pantries, armchairs and couches. In some cases there are additional places to accomodate guests. Daily cleaning and power consumpion are included in our fee. The bedroom linens are changed twice a week while the bathroom and kitchen ones are changed everyday. The apartments look over a variety of historical artifacts, ranging from Piazza Bocca della Verita (the mouth of truth), The arc of Giano, the Temple of Vesta, and the Palatine Hill.
Property Services
24 hour reception desk
Baggage storage
Limousine services
Airoport shuttle
Wireless High Speed Internet
Internet corner PC with printer

Bar
Air conditioning
Safe box
Terrace
Lift (elevator)
Press

Multilingual personnel
Tourist Information
Baby-sitting
Satellite TV
Laundry service
In-Room Services
Air conditioning
Wireless High Speed Internet
Satellite TV

Direct line
Hair dryer
Electronic safe box
Minibar

Extra bed on request
Heating
Press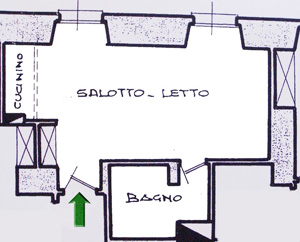 Studio
These apartments are around 28 square meters consisting of a room that holds either bed for one or two, it has an angled kitchen and bathroom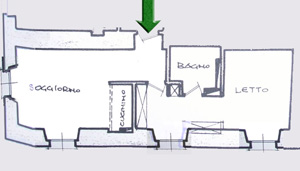 Twin Suite
These apartments are around 54 square meters featuring two rooms consisting of a larger bedroom which can hold either a bed for two or one, a living room with an angled kitchen, and a bathroom with a bathtub.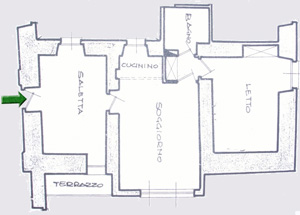 Double & Twin Suite
These appartments are around 65 square meters, featuring a studio room with a sofa bed, a living room with an angled kitchen, a large bedroom and bath.
Call or e-mail for rates and availability
CLOSED FOR RENOVATIONS
Rates
One Bedroom Standard - Sleeps 2 (one double bed or twins on request)
From 125 - 195 Euros/night
One Bedroom Deluxe - Sleeps 2 (one double bed or Twins on request)
From 145 - 270 Euros/night

Family Apartment Standard - Sleeps 2 adults plus 2 children (under 14 years old)
1 double bed and 1 sofa bed (54 sqm)
From 165 - 275 Euros/night

Family Apartment Deluxe - Sleeps 2 adults plus 2 children ( under 14 years old )
1 double bed and 1 sofabed (54 sqm)
From 185 - 310 Euros/night

Double & Twin Suite Deluxe - Sleeps 4
1 double bed 1 sofabed (80sqm)
From 195 - 330 Euros/night

Two Bedroom Two Bathroom Standard - Sleeps 4
From 230 - 360 Euros/night

Two bedroom Two Bathroom Deluxe - Sleeps 4
From 260 - 425 Euros/night

Extra bed available in one bedroom of a two bedroom two bathroom at 40 Euros/night.
*Rates include VAT, Service and Breakfast
*Closing July 2020 for Renovvations*
Client Comments
"The Velabro in Rome could not be more perfectly sited for those interested in old Roman sites. No more than 20 yards in front was the Arch of Janus. Twenty yards from it was another roman arch. Across the street was the Round Temple(sometimes called for Hercules), next to it was a temple whose name forget) that was being redone. Fifty yards behind us the street bordered immediately on the Forum. Not far up the street was the Theatre of Marcellus. And across from it the Capitoline Hill, with all the marvelous structures it has. The rooms were fine – large and semi-adjoining. The desk people were very helpful. Etc. Don't hesitate to recommend it to those interested in such surroundings. It was perfect for us"
Map and Directions