«
Parker Cottage - Cape Town, SA
Parker Cottage - Cape Town, SA
South Africa, Africa
Parker Cottage in Tamboerskloof, Cape Town offers a luxurious accommodation to the discerning traveler. Situated close to Table Mountain and some of Cape Town's other top attractions and tourist sites. Parker Cottage is the perfect choice when deciding on where to stay in Cape Town.
Parker Cottage is a little different from the usual hotel or guesthouse. Rather than being just a conventional place to sleep, Parker Cottage offers a very much unplugged urban retreat right in the creative heart of Cape Town; harmoniously blending simplicity, luxury accommodation and an active concern for society and the environment. We are passionate about the people of this country and are actively involved in several social upliftment projects that we either personally manage or sponsor (see Parker Guesthouse and Society).We want to show that a bed and breakfast does not need to diminish the earth's resources or those of its people. By 2015 we aim to be "off-grid" for electricity, water, heating and sewage; and recycling 90% of our waste.

So, although we provide guests with free wireless internet, most rooms don't have television or radios – except on request. We offer monitored parking and the use of a personal computer, but we don't do mini bars, piped music or even a reception desk.

Parker Cottage is a social place: our legendary wine evenings occur at least twice a week and there's no cut-off time for our gourmet breakfast, served to you at your table, from toast to cereal, cheese platter to omelet. We have a new plat du jour every day, which is a cooked dish, normally a lighter version of the traditional cooked breakfast. Hospitable staff and excellent service will guarantee a most memorable stay in this most picturesque region of Africa. The best Cape Town accommodation is undoubtedly offered by Parker Cottage. With mouthwatering breakfasts and well praised wine evenings, you can be sure that you are going to be treated like royalty.

Parker Cottage Bed and Breakfast in the Cape Town City Bowl is, in fact, two magnificent Victorian houses, now joined to form one grand guesthouse. Parker Cottage is named after a rather enigmatic and multi-faceted figure, Scottish architect John Parker. This original Victorian cottage was not only designed and built by him but he also lived in it for a while. He was also very briefly the first mayor of greater Cape Town (1913 – 1915). Numbers 1 and 3 Carstens street were completed in 1895.
Facilities and Services
Wide range of rooms: three, four and five star standards and prices

Air conditioning (heating and cooling) in many rooms.

Refrigerators (on request) in all rooms

Sumptuous breakfasts: ingredients all locally and most Fair Trade produced

Unlimited breakfast hours (07h00 - whenever you get out of bed!)

Ample packed breakfasts for those early checkouts

In house laundry and ironing service (dry cleaning available)

Transfers to and from the guesthouse to Cape Town International Airport

Almost all diets catered for: vegan, vegetarian, halal, gluten free etc.

Tours from the guesthouse to Cape Town, the winelands and the peninsula

Parking is free: monitored, gated or garaged (booking advisable)

Free cellphone or Blackberry hire (deposit payable)

WiFi is free, fast and secure and in all rooms

Public PC (leave your laptop at home!)

Free printing, fax and other business services

24hr check in (if using our transfer service)

Dutch, French, Italian, English, Afrikaans, isiXhosa and Arabic spoken

We ship anything and everything anywhere so you can shop til you drop.

Free travel planning and booking service (24/7) in the whole of Southern Africa: let us create your trip for you!
Room Overview
At Parker Cottage B&B, we offer a wide range of accommodations, from luxurious rooms for a romantic escape, to more economical rooms for those who visit Cape Town to work and explore. We also offer a Family Suite (sleeping up to five) and several of our rooms work well in combinations for small groups.
Fantastic Rooms both feature super King, four poster beds, free standing baths and separate showers, have working fireplaces, large armchairs and air conditioning. If you enjoy the luxury of secluded space, these rooms are perfect for you.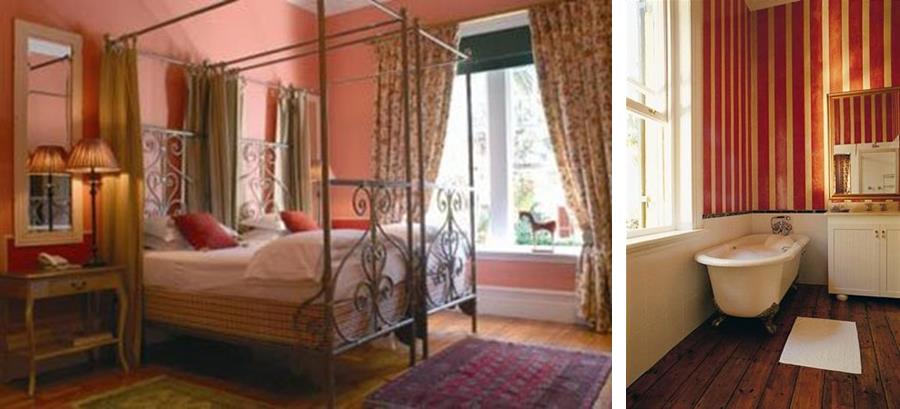 The Fitzroy Room has wonderful garden views and an enormous King four poster bed. With its enormous gilded mirrors and Louis XV style armchairs, the Fitzroy is a decadent and ornately styled chamber. A free standing ball-and-claw bath completes the setting for a private and luxurious stay. Everything you need for a luxurious weekend in Cape Town. From R 1515 per room per night.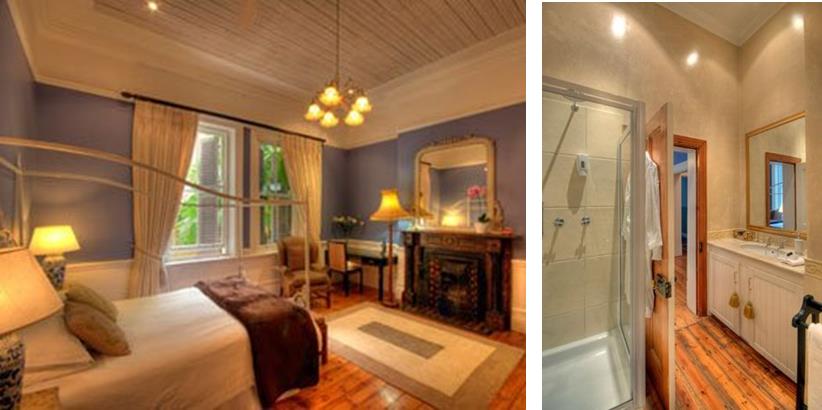 The Von Veh Room - Enter through twin oregon pine doors into a room of grand and gracious proportions decorated in regal blues, silvers and light greys. An Egyptian chandelier and a hand-painted imbuia desk add to the elegance of the room. Super King four poster bed. The Von Veh Room is one of our most luxurious rooms at Parker Cottage. From R 1515 per room per night.
The Beautiful Rooms have King size beds and shower rooms (no bath). All these rooms have air-conditioning units. They are larger in size than the Cozy rooms but slightly less grand and opulent than the Fantastic rooms.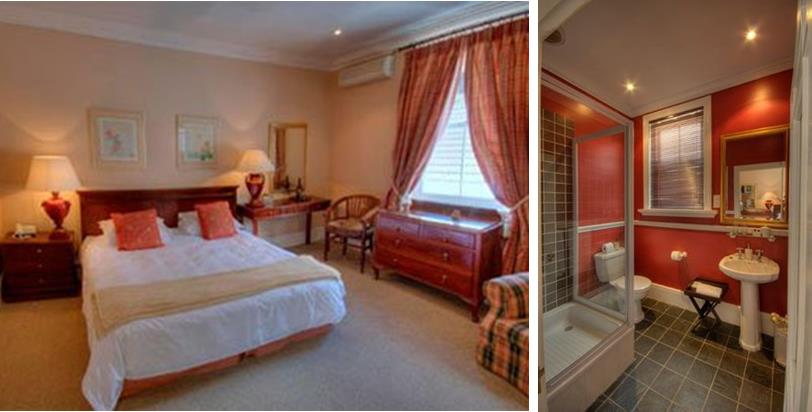 The Pomegranate Room is one of the most popular rooms. The Pomegranate is on the first floor in a quiet area of the house Fewer Victorian features have been replaced by a more contemporary look. King or twin beds. From R 1310 per room per night.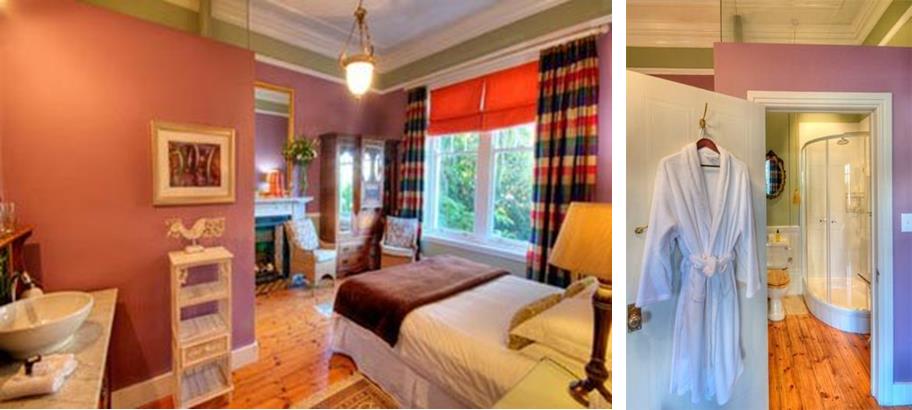 The Koi Pond Room is an elegant and light-filled room featuring stately casement windows overlooking the Koi pond. With the original marble fireplace and the King bed, you'll fall in love with this room. King or twin beds. From R 1310 per room per night.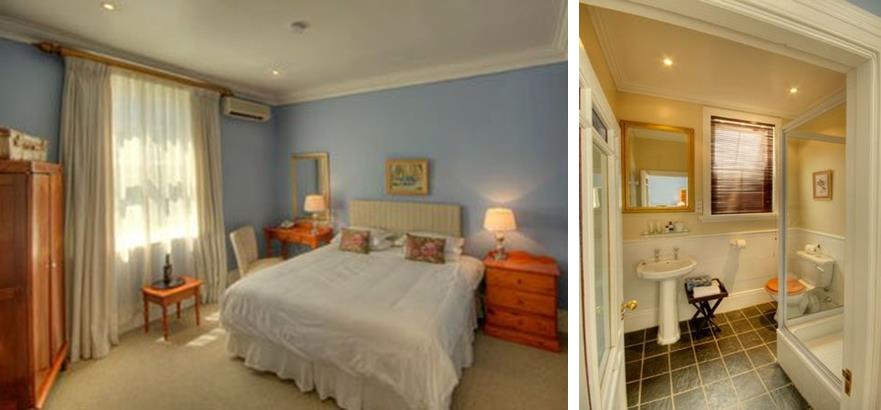 The Kleinemonde Room is a lovely room on the first floor of Parker Cottage B&B with either a king or twin beds. It has a partial view of Signal Hill, an en suite shower room and air-conditioning. From R 1300 per room per night.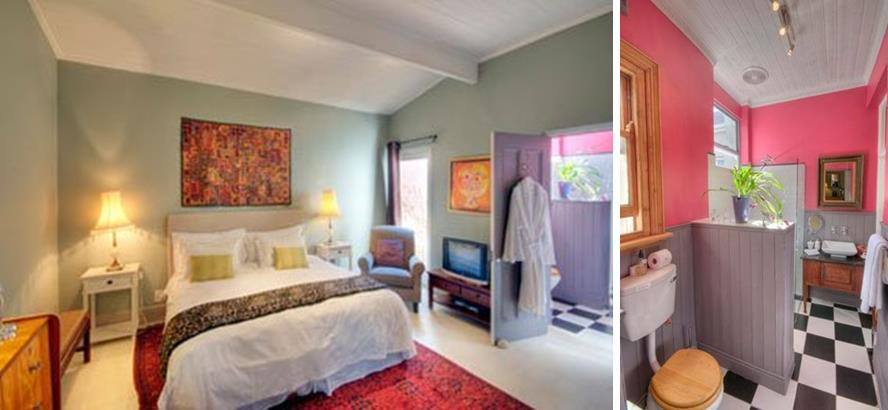 The Paterson Room is a large, airy room in a quiet and secluded area of the house. It looks out onto a small private courtyard where you can catch the sun late afternoon or have a romantic breakfast too, if you like. King or twin beds. From R 1310 per room per night.
Our Cozy Rooms are our most cost-effective accommodations, each with either bath with shower over or shower room. These rooms are ideal for those looking to spend their days exploring Cape Town. From R 800 per room per night.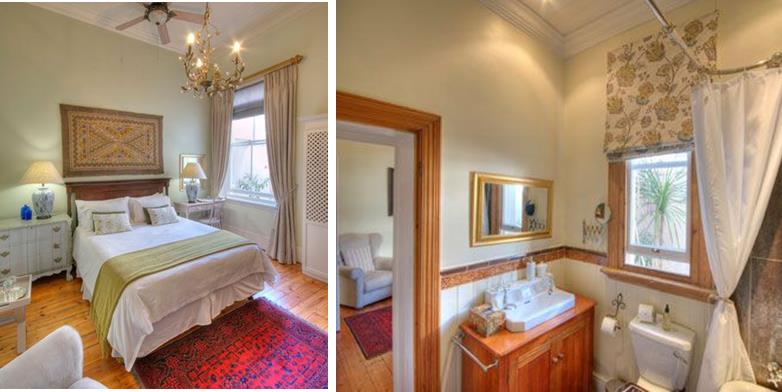 The Nguni Room is a cozy room is decorated in cool and soothing greys and greens. You have an enormous cast iron bath with shower over and there's a peep of Table Mountain you can see through the window too. Queen bed. From R 1090 per room per night.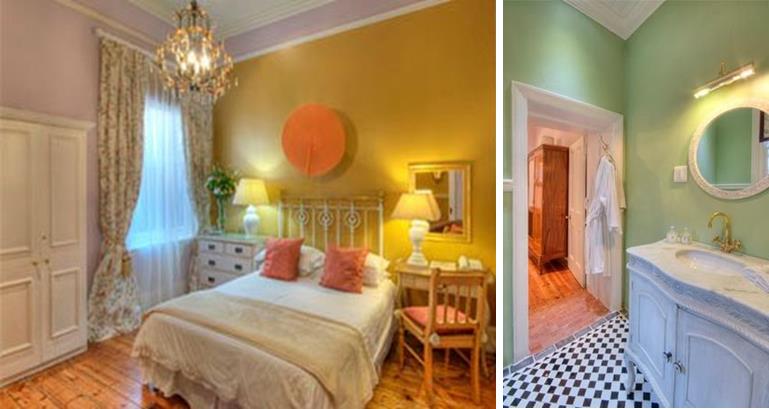 The Southmoor Room is distinctive in earthy African colors, The Southmoor Room faces out onto a private courtyard at the back of Parker Cottage. There's a large walk-in shower and a 1930's mahogany wardrobe. Queen bed. From R 1090 per room per night.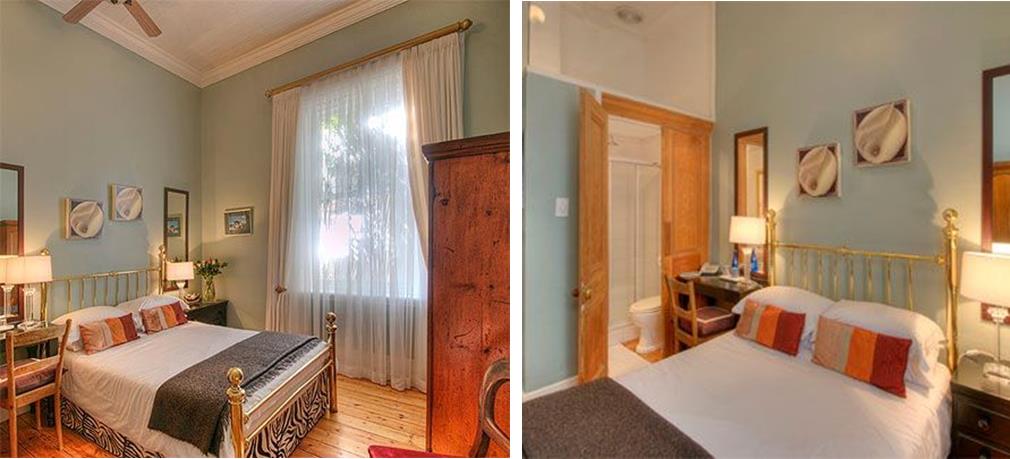 The Kane Room is the smallest room, but has a huge sash window to let in lots of light and a gleaming brass double bed and Oregon pine flooring. There's a small shower room too. From R 800 per room per night.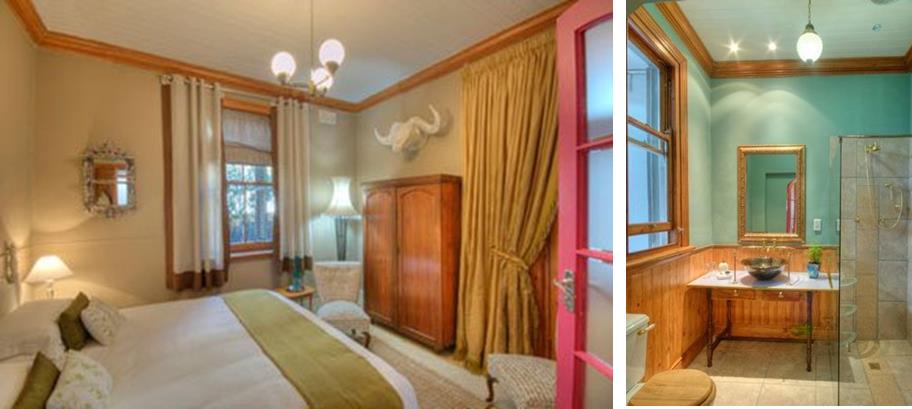 The Hamra Room is in a secluded and quiet corner of the house. It has a sensational bathroom with a handmade sink a top a yellowwood and oak table and a freestanding Victorian brass and copper tap rail around it. This room has a large walk in shower and a King or Twin beds. From R 1090 per room per night.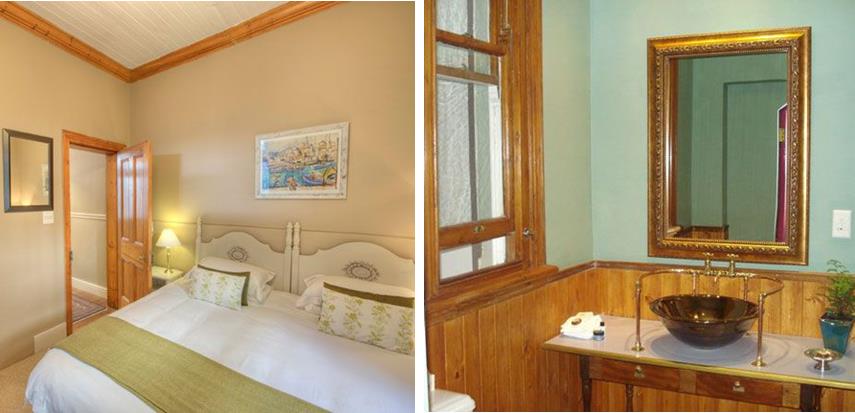 The Family Suite - This beautiful self-contained apartment within the guest house is perfect for family holidays in Cape Town. It consists of two well proportioned bedrooms, one with a King bed and one with Twin beds, and both with their own ensuite bathrooms with shower There's also a private courtyard. From R 2290 per suite per night.
Call or e-mail for rates and availability
Testimonials
"Thanks as always, seriously, for putting together these very special hotels. Ten times better than big boxes. -- (travel agent)
Map and Directions