«
Flemings Hotel and Apartments - Mayfair / Hyde Park Area
Flemings Hotel and Apartments - Mayfair / Hyde Park Area
London, United Kingdom
Situated in Mayfair, the heart of central London, Flemings Hotel is ideally located for business and pleasure. Situated in a quiet side street off Piccadilly, Flemings Hotel in Mayfair, London can be easily accessed from Heathrow Airport via the Piccadilly Underground Line or via the Heathrow Express to Paddington Station. Our boutique London hotel is just one stop from Victoria Station. Green Park, Buckingham Palace and Piccadilly are just short walks away.

Flemings Mayfair London was founded by Robert Fleming in 1851, a date commemorated by the hotel's stained glass window depicting the Great Exhibition at Crystal Palace. Robert Fleming ran a lodging house at 10 Half Moon Street (believed to have originated in 1730). The street was named after the Half Moon public house on the corner where James Boswell, best known for his biography of Samuel Johnson, lodged in 1768. In 1855 Fleming is described as running a 'Private Hotel' at 9 & 10 Half Moon Street adding 41 Clarges Street in 1883.Today Flemings Hotel in London is a unique luxury Mayfair hotel, occupying 13 interconnecting Georgian Townhouses bordering Half Moon Street and Clarges Street in central London, and is privately owned.
Omer Mayfair Restaurant -Shaun Rankin received a Michelin star in 2005 for his first restaurant in the Channel Islands. He held this for eight years until the launch of his second restaurant in 2013 for which he was awarded a Michelin star just four months after opening. His latest venture at Ormer Mayfair continues this celebration in the accolades it has received since opening. It has been voted one of the top 5 restaurants in London by the Hardens Restaurant Guide 2018 and is consistently rated as one of the top 10 restaurants in London for Fine Dining on TripAdvisor. Ormer Mayfair was featured on the BBC MasterChef show and invites you to book a table for a fine dining experience.

The Drawing Room - The Drawing Room at Flemings Mayfair Hotel echoes elegance and grace in homage to the hotel's 18th century origins. This Georgian history is reflected in the room's harmonious proportions with reinstated period detail including 3m high ceilings and sash windows as well as an original marble fireplace providing the focal point of the room. The room's heritage is further complemented by exquisite hand-painted wall panels by famous de Gournay depicting early views of India. The refined Indian inspired tea room welcomes guests and visitors to enjoy light refreshments and beverages all day to imbibe wine and champagne at its bar. The Drawing Room is the perfect setting for a genteel afternoon tea.

Manetta's Bar
Plush velvet, supple black upholstery and polished rose gold set the scene for some seriously stylish sips in an ambience redolent of the glamorous 1930's. It was during this time that Manetta's was the favourite hangout for the cognoscenti from the worlds of literature and the arts who mingled with celebrated rakes and aristos. The clientele may have changed a little over time but the atmosphere still lives on, making Manetta's one of the best cocktail bars in Mayfair.
The hotel's 129 luxury bedrooms and suites all feature:
• Hand-stitched Mattison mattresses and luxurious Chiswick linen
• Ensuite bathrooms featuring stunning mosaic marble floors with underfloor heating, bathtubs or rainfall showers
• Bathrobes, slippers, and a hairdryer
• Wireless internet access
• LCD screen televisions with movies on demand and internet access
• Mini bar, coffee & tea making facilities
• 24 hour room service
• 24 hour Concierge service
• In-room safe
• Air conditioning
• Iron/ironing board (on request)
* Fully Equipped Gym

Every room is a serenely calm and restful haven with three-metre-high ceilings, glamorous 1930's inspired décor in shades of bronze and soft greys, period features and bespoke furniture In silver stained fiddle-back sycamore.

Classic Double
These rooms are cozy with everything you would expect from a luxury hotel room with five star service in central London. Average size of Classic Double/Twin Room 229 sq f. / 21.3 sqm.
Deluxe Single
These beautifully redesigned rooms showcase the very best in contemporary style and boast a colour palette of bronze and soft greys. The Deluxe Single room features a single bed. Average size up to 129 sqf / 12 sqm.
Deluxe Double
These redesigned rooms are perfect for a luxurious Mayfair break and feature a double bed. Average size up to 226 sqf / 21 sqm.
Executive King
These newly designed luxurious rooms include a king size zip & link bed. Average size: 322 sqf / 30 sqm.
Junior Suites
These are spacious, ideal for leisure or business breaks in London Mayfair with a comfortable seating area and a king zip & link bed. Average Junior Suite size 404 sq feet / 37.5 sqm.
Studio Suites
These rooms showcase the very best in contemporary style. The en-suite bathrooms are done entirely in grey slate and feature a heated marble mosaic floor and either a walk-in rainfall shower or shower over bath. The rooms feature a king zip & link bed and an honesty Gin Bar (in some rooms). Average size: 430 sqf / 40 sqm.
One-Bedroom Suite
Our luxury Suites are exquisitely designed to the best quality. You will have your own secluded entrance giving you privacy as well as access to all of our hotel facilities and services. Our spacious new Suites will welcome you to relax in the heart of Mayfair. Our one-bedroom suites have one king bed which can be twinned and a sofa bed, living room with dining area, fitted kitchen with fridge/freezer, washer/dryer, dishwasher and microwave. Average size: 581 sqf / 54 sqm.
Two-Bedroom Suite
Flemings Mayfair two-bedroom suites are great for families and larger parties who are visiting London. These lavish suites possess stylish characteristics and quirky touches together with a magnitude of services and amenities, giving you a unique stay in Mayfair. With this central location you have the option of dining and relaxing in your own private space, or exploring the surrounding area of exclusive restaurants and bars, impressive designer stores and sensational attractions.
Our two-bedroom Suite feature generous living room with dining area, fitted kitchen with fridge/freezer, washer/dryer, oven/hob, dishwasher and microwave, private entrance.Average size: 721 sqf / 67 sqm.
Two-bedroom Garden Apartment
The stunning two-bedroom Garden Apartment is a duplex two-bedroom suite with private outside patio garden with a BBQ area. The ground floor features a spacious lounge with 3D TV, dining area, fitted kitchen, fridge/freezer, washer/dryer, oven/hob, dishwasher and microwave. The lower ground floor offers a master bedroom with a king bed, two trundle beds and a second bedroom with king bed (can be twin). Size: 1657 sqf /154 sqm.
Three-Bedroom Apartment
The three-bedroom apartment is the largest at Flemings Mayfair. It is of a townhouse style, spread across two floors and can sleep up to six guests.
All bedrooms are upstairs; the colour scheme is rich and indulgent with a fabulous boutique style. The impressive bathroom is complete with a freestanding bathtub, perfect for relaxing. The spacious lounge features large Georgian windows welcoming the natural light that compliments the stunning interior design of this apartment. The kitchen and dining room are open plan with a formal dining setting, great for dinner parties and family celebrations. Size: 1237 sqf / 115 sqm
Call or e-mail for rates and availability
Rates for Hotel Rooms
Standard Room
Executive Room
Junior Suite
Rates for Apartments
One-Bedroom
Two-Bedroom
3-Bedroom
Penthouse with 2 bedrooms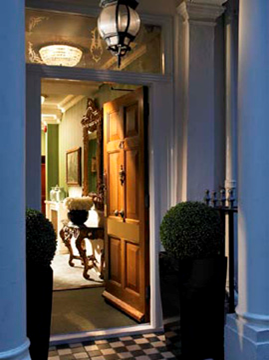 Map and Directions