«
Blog

/

Hundreds of serviced-apartments added to the Small & Elegant Hotels portfolio
Hundreds of serviced-apartments added to the Small & Elegant Hotels portfolio
Posted: February, 18 2015
Just in time for the peak European travel planning season, Small & Elegant Hotels has finalized a partnership that will provide our clients access to hundreds of serviced-apartments in the destinations that you request the most including Rome, Paris and London.
These apartments are perfect for families, multi-generation travelers, and groups of friends. Here are just a few of the options now available for instant quote and offer, and as always, feel free to give us a call at 800.553.2582 or email at us at res@smallandeleganthotels.com to learn more.
Paris apartments in the Marais
Long the aristocratic district of Paris, Le Marais hosts many outstanding buildings of historic and architectural importance. It spreads across parts of the 3rd and 4th arrondissement in Paris (on the Rive Droite, or Right Bank, of the Seine). Following its rehabilitation, the Marais has become a fashionable district, home to many trendy restaurants, fashion houses, and hip galleries.
With the Paris Apartments in Marais, you can choose from a one-bedroom, two-bedroom, or three-bedroom apartment.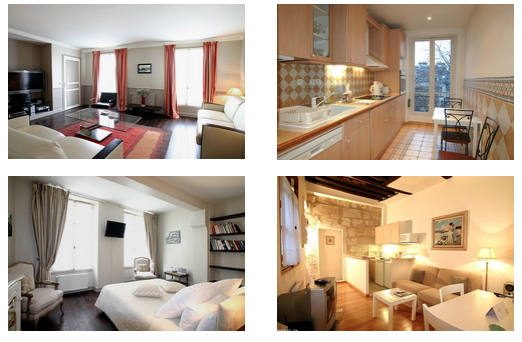 London apartments in Marylebone
London's exclusive Marylebone neighborhood, nestled between Hyde Park and Regents Park within London's vibrant West End. This prestigious Marylebone address, in the heart of London's West End, boasts independent cafes, restaurants, museums, boutiques, and is within walking distance to Mayfair, New Bond and Old Bond which hosts the world's most celebrated international designers.
These furnished apartments and serviced residences offer newly built, full-floor accommodations providing the anonymity and exclusivity of a private residence, and is comprised of eight studio, one and two-bedroom suites and a Mews House with a private enclosed garage. The Mews House is an especially unique residence. Mews is a primarily British term formerly describing a row of stables, usually with carriage houses below and living quarters above, built around a paved yard or court, or along a street, behind large city houses, such as those of London, during the 17th and 18th centuries. These have been converted into homes/suites that make for lovely accommodations.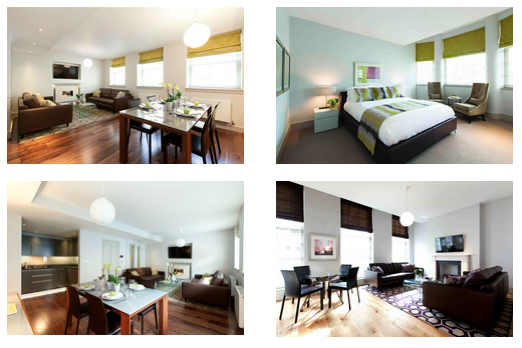 Barcelona apartments
This beautiful city is full of what European cities are known for (outdoor markets, restaurants, shops, museums and churches) and is fantastic for walking with an extensive and reliable Metro system for more far-flung destinations. The core center of town, focused around the Ciutat Vella ("Old City") provides days of enjoyment for those looking to experience the life of Barcelona while the beaches the city was built upon provide sun and relaxation during the long periods of agreeably warm weather.
And all of this can be yours to enjoy when you stay at one of more than 60 fully-equipped studio apartments around the heart of this beautiful city. Each apartment has a bedroom and sitting room, bathroom, kitchen and balcony.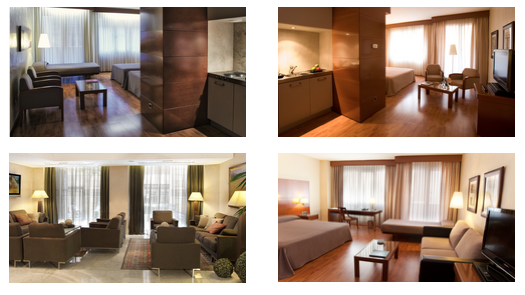 Testimonials
"My wife and I had a wonderful vacation in Italy using your hotels through our travel agent"