«
Blog

/

Italians villas in Tuscany: the perfect winter retreat
Italians villas in Tuscany: the perfect winter retreat
Posted: January, 08 2015
Happy New Year from all of us at Small & Elegant Hotels! We hope you had a wonderful holiday season with your loved ones. If you're like us, you've now got your sights set on spring while enduring this week of sub-zero temperatures.
When the weather is frigid like this, one of our favorite things to do is think about taking a warm and sunny vacation or getting away to anywhere with warmer winters. We mustn't be alone though. The winter is considered high season for the Caribbean as people from all over the world try to escape harsh winters.
While the Caribbean may be the first place you think of when you consider getting away this winter, perhaps you should also consider some other atypical locations. The winter is actually considered the low season for Italy tourism, making it a great time to explore Italy's top destinations like Rome or Venice and temperatures this time of year are mild in the 50s and 60s. For others who don't want to play tourist in a big city and are looking for a true escape, the Italian countryside has all you'll need and more.
Tuscany is perhaps the most widely known rural region of Italy and with good reason. This breathtaking region in central Italy is full of rolling green hills, quaint towns, and vineyards. It is regarded as the birthplace of the Renaissance and has been home to many figures influential in the history of art and science, and contains well-known museums such as the Uffizi and the Pitti Palace. Another thing Tuscany is known for? It's great supply of amazing vacation villas, perfect for groups of friends or families looking for a true home away from home where they can unwind, relax and spend time together while enjoying the Tuscan landscape. Private villas throughout italy typically feature amazing amenities like large eat-in kitchens, magnificant outdoor dining, oppulent gardens, relaxing swimming pools, and tennis courts all there for your private use and enjoyment.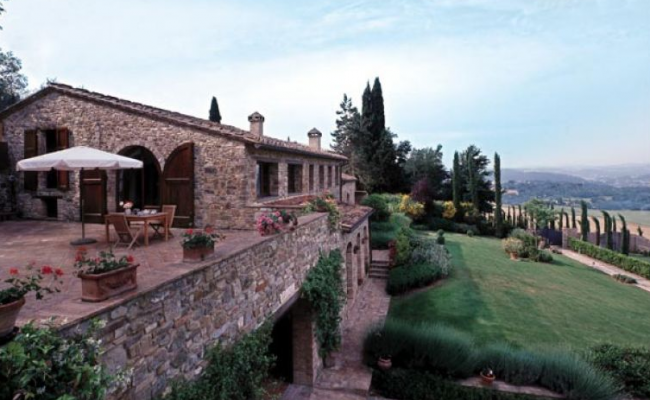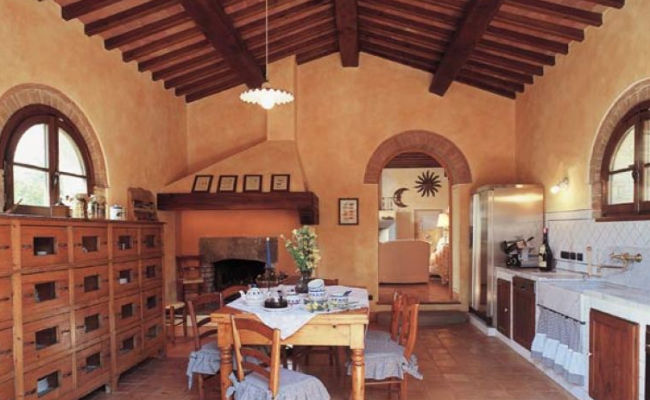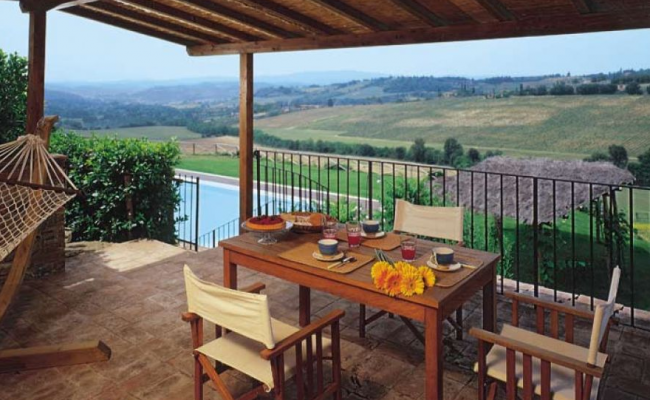 Villa Claudia is a large, welcoming Villa set on a hillside between Florence and Siena. Just a few years ago, it was for all practical purposes an abandoned hayloft, but it has been rebuilt meticulously to a very high standard by the new owner, converting the old building into a warm and charming country home.
The interiors throughout are wonderfully furnished with modern and traditional Tuscan pieces in keeping with the original terracotta floors and beamed ceilings. The large kitchen is extremely well-equipped (including freezer,fridge with ice-dispenser, oven, dishwasher ) with a large fireplace and dining table. As in every house of rural origin, it is perhaps the main space, where the family gathered after a day of work to enjoy those typical dishes that we still find today on Tuscan tables and that, on request, can be tasted and savoured here by the guests also. The spacious, furnished loggia, outside the kitchen, includes a shaded area for outdoor al fresco meals. A beautifully maintained garden surrounds the house, ensuring complete privacy and leading down to a very large pool strategically positioned to enjoy the best view..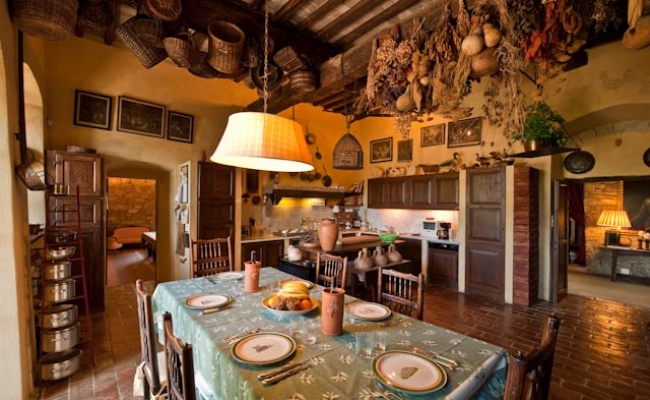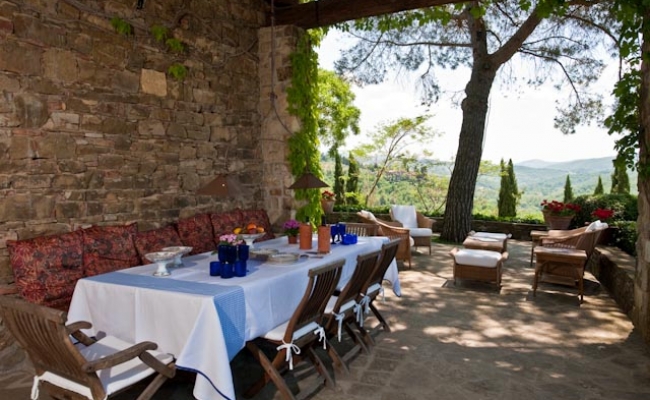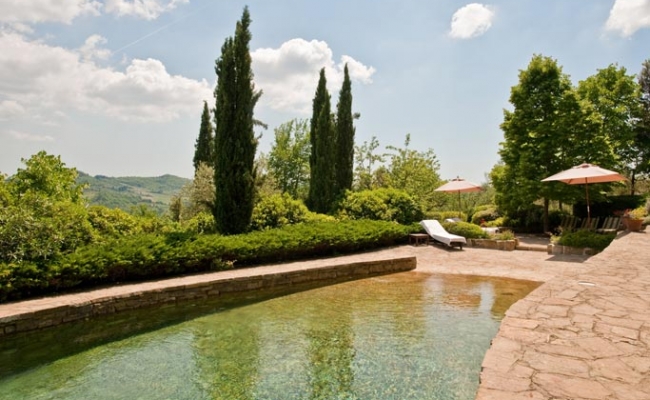 Villa Reigna is one of the most beautiful and elegant county villa's in Chianti complete with a tennis court and a unique wonderfully sloping stone swimming pool. It is located between Panzano in Chianti and Greve in Chianti at the end of a 2 km. well maintained dirt road in a secluded place that enjoys a wonderful panorama of the rolling hills of Chianti, yet it is walking distance from an excellent restaurant.
The villa that dates back to the 13th Century has large and spacious rooms and a superb collection of antiques and paintings, yet it maintains a very comfortable feel, full of character, which makes it the perfect Tuscan home for a lovely holiday. Surrounded by 10 hectares of Tuscan countryside, vineyards and olive groves, Villa Reigna has its own mature gardens, trees and an antique rose garden.
The villa is large (6,000 sq.ft) and spaciously allocated on two floors with a huge fully-equipped Tuscan kitchen with dining table and doors to the terrace, a formal dining room with French doors leading out to the south facing terraces, a billiard room, a very comfortable family sitting room, a large living room, 5 double/twin bedrooms, 1 single bedroom, 5 full bathrooms and a powder room.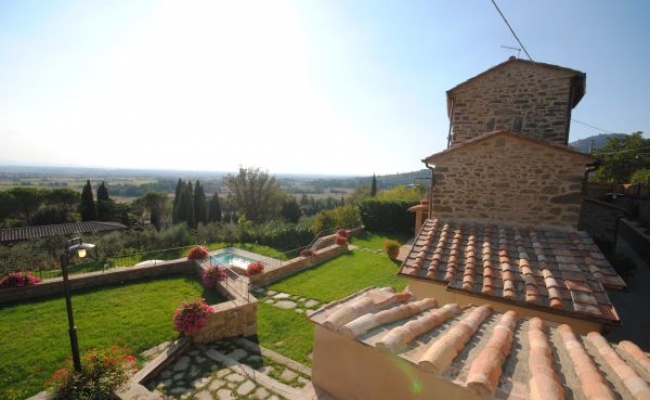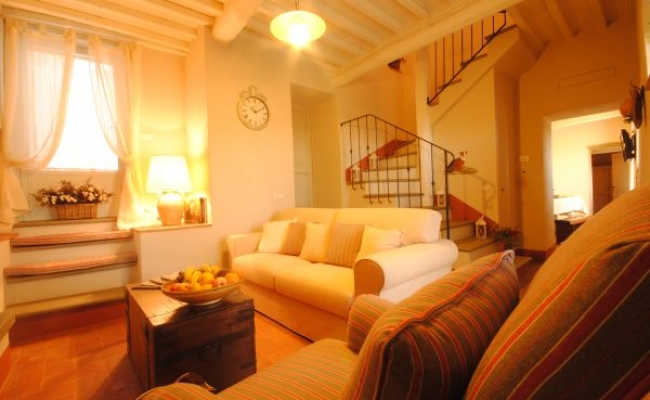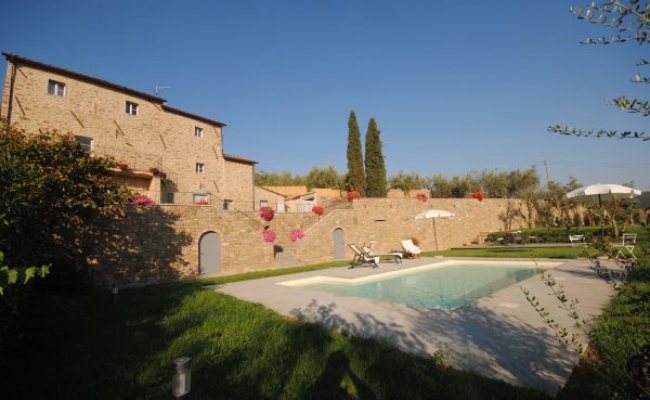 Villa Cortona is a charming villa located in a quiet and panoramic position in one of the most scenic areas of the hills surrounding Cortona. Thanks to a careful restoration completed in September 2011, the old country house dating back to the fifteenth century, was transformed into a beautiful private independent villa, tastefully furnished and decorated, ideal to comfortably accommodate up to 9 people. The clever use of materials, colors and fabrics gives the setting a warm and elegant feel. From the swimming pool and the beautiful garden of the villa (with a BBQ, gazebo and unique outdoor furniture) you can enjoy wonderful views of Cortona and the Chiana Valley. The Villa is the ideal place for those wishing to spend their holidays in a unique setting and looking to relax.
Testimonials
"My clients raved about the five property that I sent them to. Raving reviews! Such a unique and wonderful experience, they said the trip was heaven...