«
Blog

/

Learn more about the 5 villages of Cinque Terre
Learn more about the 5 villages of Cinque Terre
Posted: April, 16 2015
Cinque Terre is a part of Italy we've been working hard to add to our portfolio and in the past month, we've added several amazing hotels and B&Bs from this lovely region. If you've never heard of Cinque Terre, it is made up of five seaside villages perched in the steep hills of the coastline in Italy. These five villages are historical and retain much of their original old world charm, so much so that you may find yourself feeling as though you've stepped back in time. Today on the blog, we're going to dig a little deeper into the villages of Cinque Terre and as a result, you'll hopefully see why we are so excited to be sharing this region with our loyal customers. Click here to see all of our hotel and B&B options in Cinque Terre.

Vernazza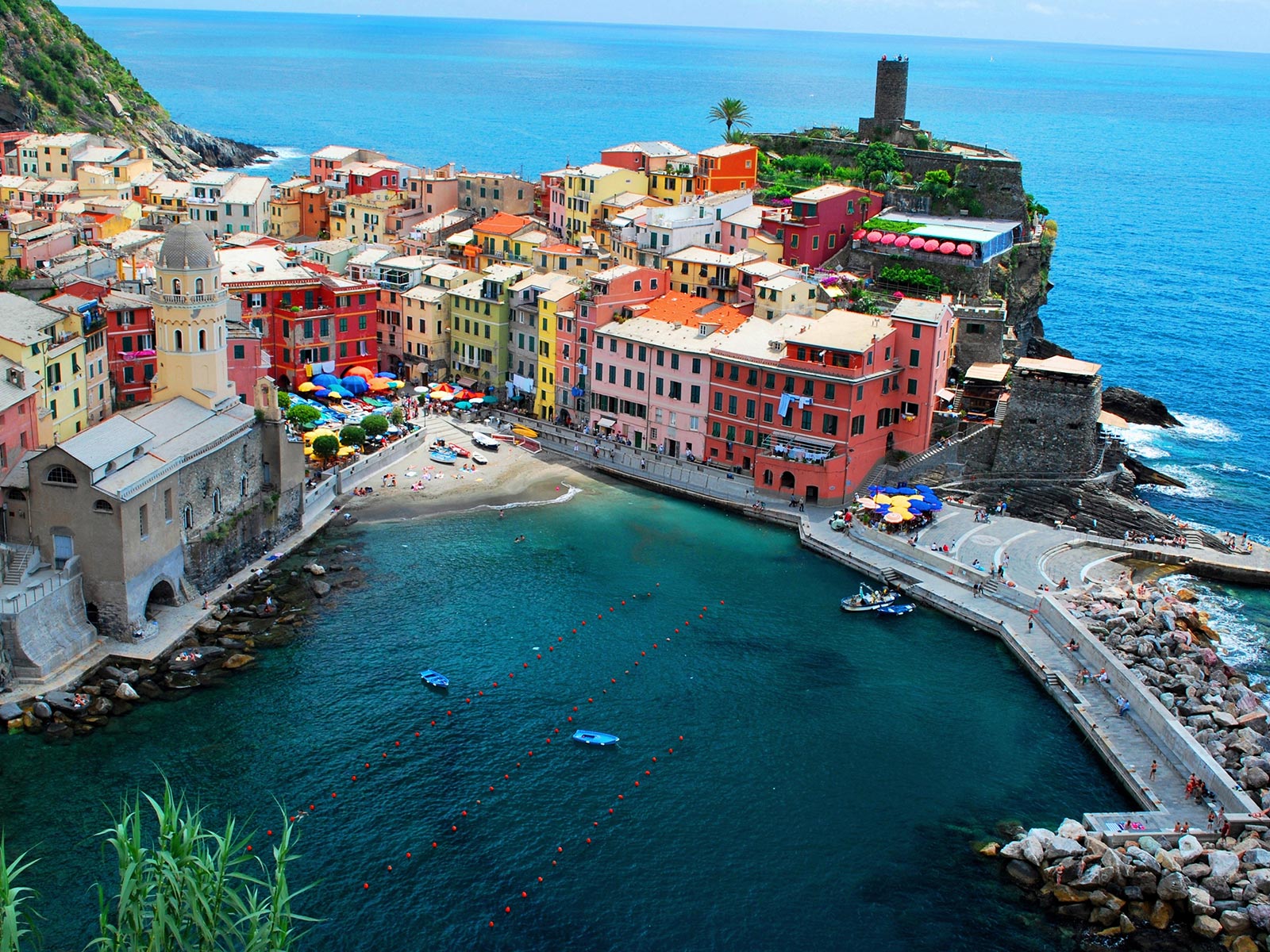 Vernazza is perched on a natural seaside pier with an amphitheater shape, which creates a gorgeous view and makes the village perhaps the most picturesque of Cinque Terre. Because of its beauty, this village is also the most-visited by tourists and the main shopping areas are often bustling with visitors. It also has the most easily accessible port in Cinque Terre, which makes it very easy to reach by sea. Perched on the edge of a cliff at the tip of the town, sits the Doria Castle. This ancient castle sits on the hilltop above Vernazza and was originally constructed as a watch tower during the 15th century and is now visited often by tourists. From the hilltop of Doria Castle, you can get a good view of Vernazza's natural and protected harbor that includes a small beach and calm turquoise waters. After a full day of shopping, sunbathing and sightseeing, tourists have no shortage of amazing dining options in Vernazza. Perhaps one of its most highly regarded restaurants is Belforte, which offers delicious Italian cuisine and seafood, as well as breathtaking views of the coastline.

Monterosso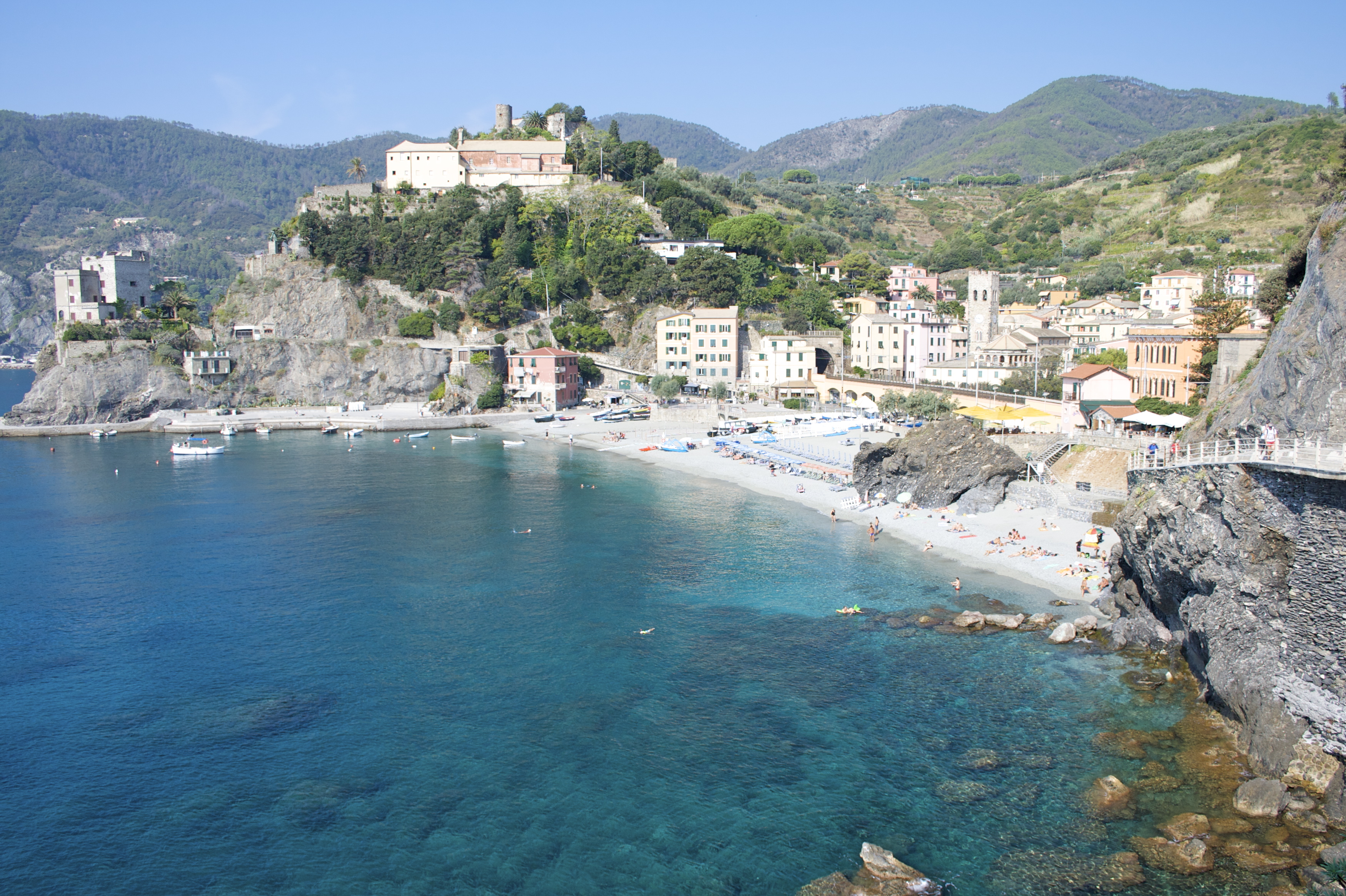 The Cinque Terre village of Monterosso dates all the way back to 643 AD, when people settled on the hills to escape the barbarian invasions. The village is best characterized by its medieval village center called Monterosso Vecchio and its modern residential district, which spreads along the beach of Fegina. Monterosso has the highest number of tourist accommodations in Cinque Terre and is also recognized for having the best beaches out of all five villages. It also has the most wine shops, artisan shops, hotels and restaurants. Some of the best views can be found at the Church of the Capuchin Fathers. From here, visitors can enjoy wonderful panoramic views of the village.

Corniglia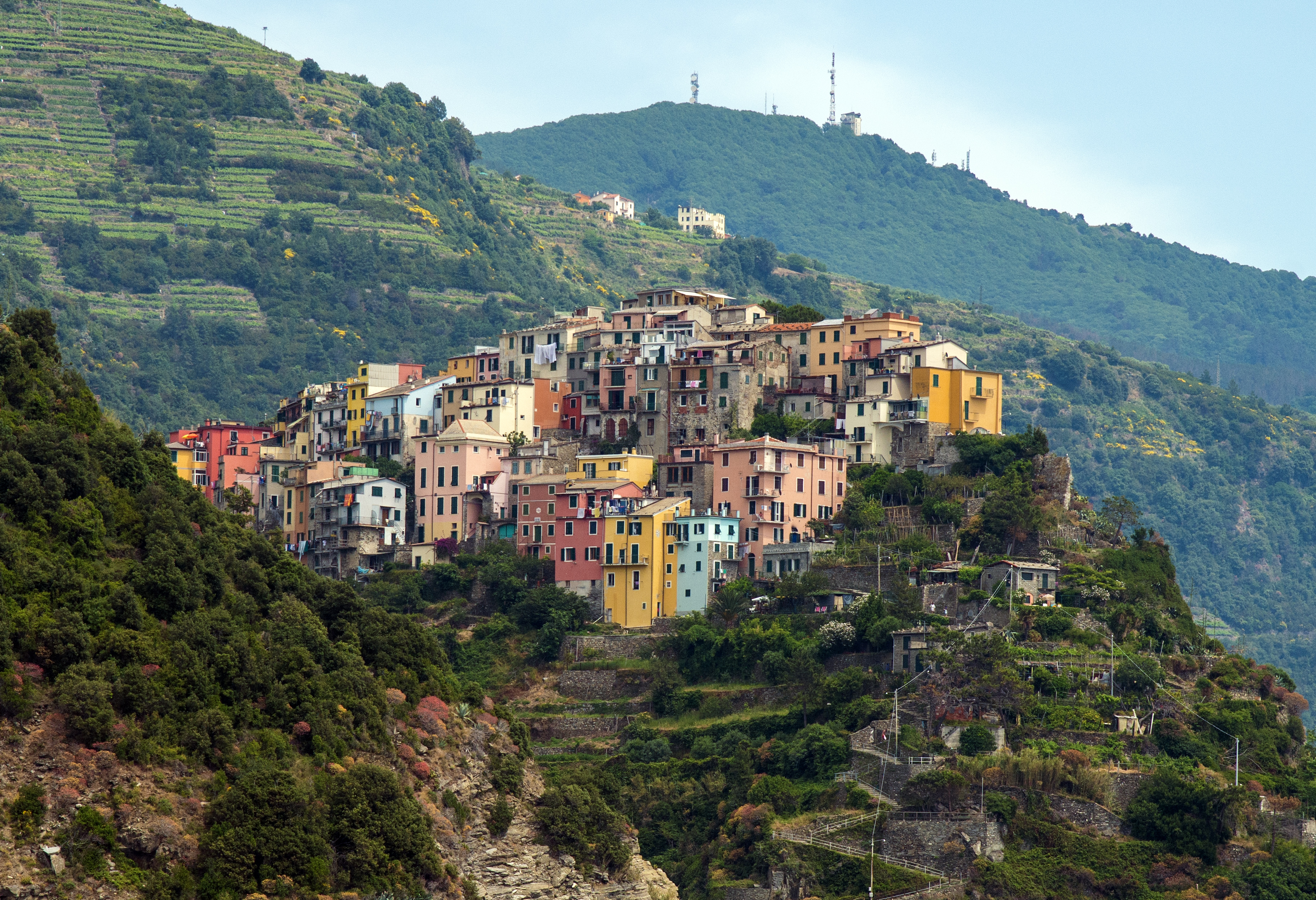 From the railway, Corniglia can be reached through a long flight of steps that lead into the village. Unlike the other villages of Cinque Terre that are recognized as maritime villages, Corniglia is classified as a rural village. It is situated on a 100 meter high promontory above the sea and is surrounded on three internal sides by terraced vineyards. At one point, the sea was only reachable by a long stair of 370 steps called the Lardarina. Today, there is also a road that runs a little above the beach. Corniglia has been around since the 13th century and has ancient Roman origins. It is believed that the name stems from an old farm where white wine was produced. Must-see attractions include the Church of San Pietro, a significant monument in the gothic-ligurian style and the Belvedere, a seaside terrace that offers amazing views. When in Cornigila, get a scoop of authentic Italian gelato at Alberto Gelateria. It makes for an indulgent treat, especially after a long hike up the stairs that lead into the village or from the beach!

Manarola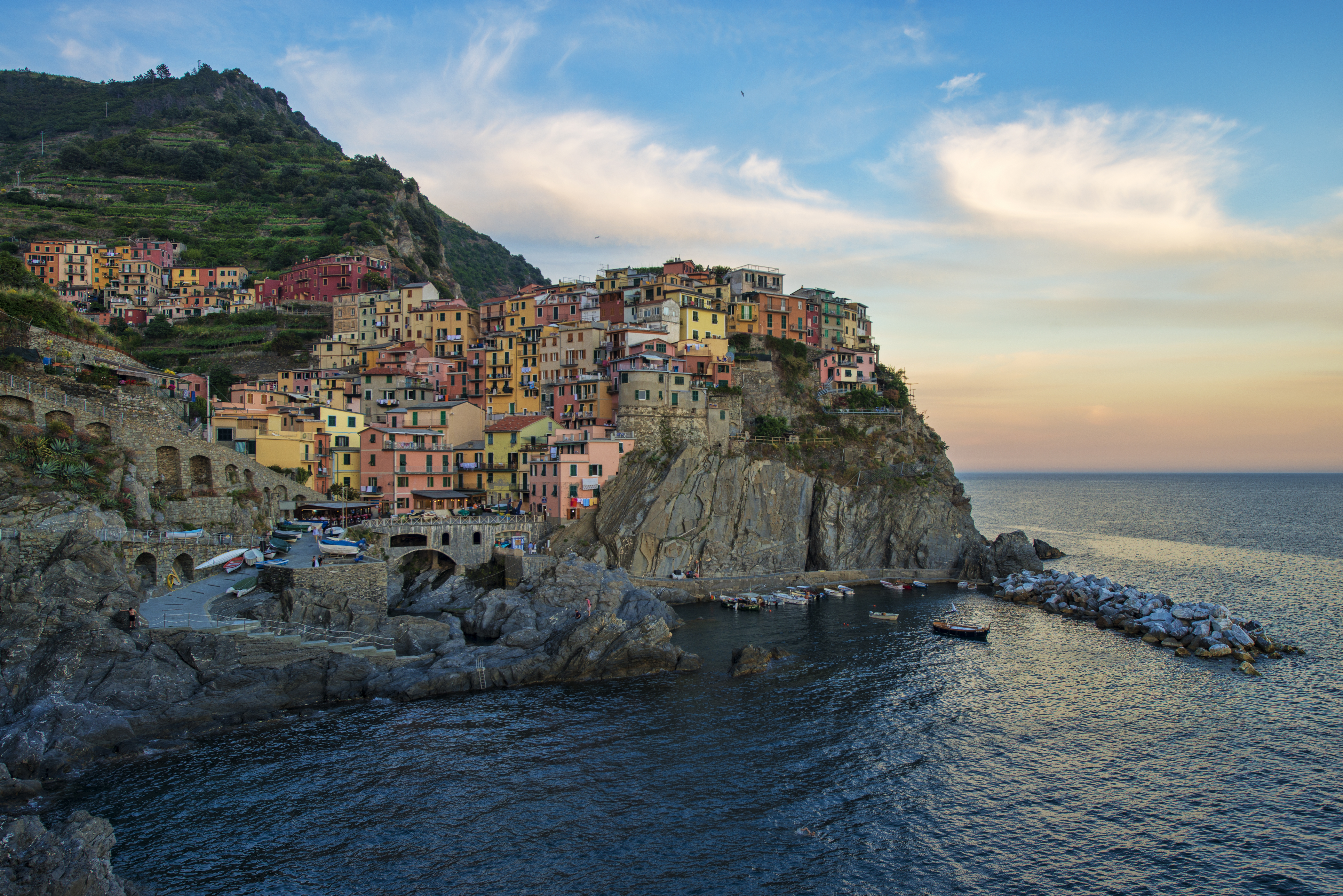 Established in the 13th century, Manarola is a village surrounded by vines and very famous for its wine. A well-known walk called the "Via dell'Amore" starts in Manarola. It is an easy walk, about 2 kilometers long that connects Manarola to another village of Cinque Terre called Riomaggiore. The homes in Manarola descent right down the cliffs, nearly into the sea, perched precariously on the wave-beaten rocks. This village is especially magical during the holiday season when the village sets up manger scene with more than 300 life-size statues placed amongst the terraced vineyards overlooking the village. The entire manger scene covers more than 4000 square meters. If visiting during other times of the year, there is still plenty to see and do. For example, many tourists visit the church of San Lorenzo, built in 1338 to see the church's beautiful rose-colored window that dates back to the 14th century. Like all of the villages in Cinque Terre, Manarola too has no shortage of fine dining. Trattoria Dal Billy is among its most well-reviewed establishments and features a delicious menu full of authentic Mediterranean cuisine.

Riomaggiore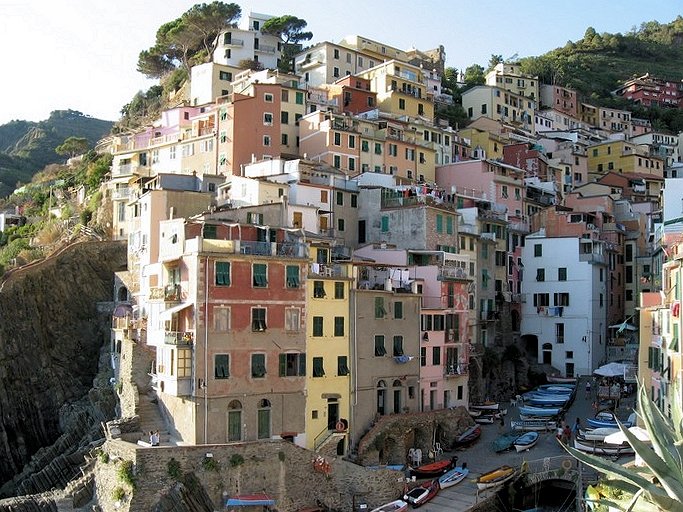 At first glance, the buildings in Riomaggiore almost look as though they are stacked directly on top of one another, but that's just because of how steep the cliffs are in this seaside Cinque Terre village. If you are traveling from La Spezia, Riomaggiore will be the first Cinque Terre village you'll meet. It is also the village located on the other end of the "Via dell'Amore" that begins in Manarola. The village itself is so steep that many of the streets are simply sets of stairs or steps. The village's main street has a stream that runs directly below and the street itself is a popular stop for tourists as it is full of shops, restaurants and bars. After working up a hunger from all the steps, a visit to Veciu Muin will likely be in order. This local pizza shop serves up authentic Italian pizza pies, salads and cheap, yet delicious wine.
Enjoy what you've seen and read here? Check out our amazing list of hotels and B&Bs in Cinque Terre by clicking here.
Testimonials
"So happy to stay in Small Italian hotels instead of the inpersonal hotel chains!"