«
Newstead Belmont Hills Golf Resort and Spa
Newstead Belmont Hills Golf Resort and Spa
Bermuda, Caribbean
Overlooking picturesque Hamilton Harbour in Bermuda, the Newstead Belmont Hills Golf Resort and Spa is the sparkling jewel of luxury resorts in Bermuda. Our unique all-suite property sets itself apart by blending magnificent resort amenities with the personalized service of an intimate boutique hotel. Boasting unmatched access to Bermuda's natural and historical attractions – on both land and sea - the Newstead Belmont Hills is a splendid gateway to just the Bermuda you came to discover.
This Bermuda resort offers a range of accommodation options with studio and one-, two- and three-bedroom suites measuring from 450 to 2,500 square feet. All suite and studio layouts feature a spacious private balcony or patio offering uninterrupted views of the infinity pool and Hamilton Harbour beyond. Each suite is appointed with a sleeper sofa, full kitchen and separate living area as well as an exquisite private bathroom with a shower and Jacuzzi.
Throughout your stay, friendly service and a playful eye for detail ensure a relaxing resort experience. Thoughtful perks like room service, complimentary high-speed Internet access, and a dedicated concierge are available to all guests. One guest will enjoy a complimentary round of golf at the stunning 18-hole Belmont Hills Golf Course, along with full golf club service and complimentary transportation to the course.
Recognized as one of the "100 Best Restaurants in the World" by Condé Nast Traveler, the award-winning Blu Bar & Grill offers a tantalizing menu of steak and seafood specialties. Beau Rivage, Bermuda's only French restaurant, serves up spectacular views of the harbour to complement its delicious and delicate cuisine.
The soothing Newstead Spa offers four treatment rooms, a couples' suite, his-and-her steam rooms and a complete range of body, facial, hair and nail care treatments. Next to the spa, our 24-hour fitness room is the perfect spot to work up a sweat, with treadmills, elliptical machines, stationary bicycles and a set of free weights. Lounge on the sunbathing deck overlooking the harbour or take a dip in the infinity pool. Head to the tennis courts to work on your serve and volley game or book a lesson with one of our experienced professionals. Stay in touch with colleagues and clients in our convenient onsite business center.
Whether you're visiting Bermuda to unwind or find adventure, there are a multitude of activities and experiences to enjoy. Take advantage of our daily water shuttle service for a short 5-minute boat ride to nearby Hamilton – or hop aboard our seasonal beach shuttle. Ask our concierge to arrange a tour of the Royal Navy Dockyard/Bermuda Maritime Museum and the aquarium, zoo or botanical gardens. Visit nearby Somerset Village or the Bermuda Underwater Exploration Institute. Take in a local cricket match or try your hand at sailing. Escape to the Newstead Belmont Hills Resort and immerse yourself in the breathtaking natural beauty and vibrant island culture of Bermuda.

At the Newstead Belmont Hills Bermuda luxury resort, a magnificent range of amenities and services awaits. Offering a level of personalized service usually found at intimate boutique hotels, a dedicated concierge is available to assist you with all onsite reservations or to help you plan activities and excursions at any destination in Bermuda. During your stay, you will enjoy one complimentary round of golf at the world-class Belmont Hills Golf Course (based on course availability), along with complimentary golf club service and transportation to the course.
Reserve some court time or schedule a group lesson at our tennis club. Grab an invigorating workout at our 24-hour fitness facility, which features treadmills, elliptical machines, stationary bicycles and free weights. After your workout, a massage or treatment at the exquisite Newstead Spa is the perfect reward. When you want to cool off and relax, take a dip in the outdoor infinity pool then enjoy an afternoon snooze on the sunbathing deck. Ready to explore Bermuda? Take advantage of the Resort's private water taxi, offering service between the City of Hamilton, the resort and the Belmont Hills Golf Club. Guests also enjoy convenient access to Bermuda's immaculate sandy beaches with our seasonal beach shuttle.

Accommodations
A unique blend of contemporary luxury and old-world charm await inside the Newstead Belmont Hills' studio, one-, two- and three-bedroom suites. With waterfront accommodations ranging from 450 to 2,500 square feet, you're sure to find the perfect match for your next trip to Bermuda. All elegantly appointed suites and studios are furnished with complimentary wired and wireless Internet, a full room service menu, and a concierge staff available 24-hours a day. Each also features a spacious private balcony or patio affording breathtaking views of the infinity pool and beautiful Hamilton Harbour. Additional in-suite amenities include sleeper sofas, full kitchens, separate living areas and sumptuous private bathrooms with showers and Jacuzzi tubs.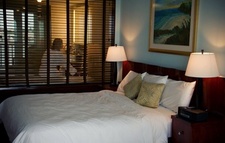 Deluxe Room
This 450-square-foot space features two double beds, a small refrigerator, flat-screen TV and all standard amenities.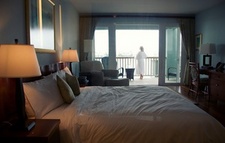 Studio Deluxe
Perfect for a romantic couples getaway, this 500-square-foot space features a king-size bed and small kitchen. It is located right on the water's edge.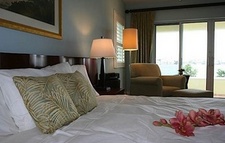 One-Bedroom Suite
This 900-1100-square-foot space provides separate living area with sleeper sofa, dining and work area with desk, full kitchen, spacious bathroom with shower and Jacuzzi, extended outdoor balcony.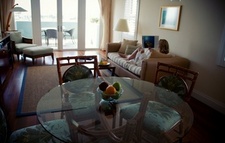 Two-Bedroom Suite
With separate entrances and 1,500-1,700 square feet of space, two-bedroom suites are perfect for a family getaway. This suite features a fully appointed kitchen, spacious balcony, separate dining and living areas, sleeper sofa, master bedroom with king bed, bathroom with shower and Jacuzzi, a second half bathroom. second bedroom with two double beds and a private bathroom.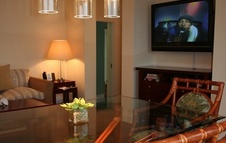 Three-Bedroom Suite
Offering an impressive 2,500 square feet of living space, our recently renovated three-bedroom suites take our two-bedroom amenities to the next level. This suite is perfect for small groups, extended stays and family vacations. Located in the historical Shoreby building, where President Woodrow Wilson, Mark Twain and Charlie Chaplin stayed during visits to Bermuda, this spacious suite offers a Master bedroom with a king bed and two bedrooms with king beds.
Call or e-mail for rates and availability
Deluxe from 355 US$
Studio Deluxe from 373 US$
One-Bedroom Suite from 468 US$
Two-Bedroom Suite fro 657 US$
Three-Bedroom Suite from 751 US$
Map and Directions