Chateau de la Barre
Loire Valley, France
Private Luxury in the Loire Valley
Conflans sur Anille, France, near Tours, Vendôme and Le Mans (less than 2 hours from Paris).
Château de La Barre is more than a small luxury hotel, it is an authentic and elegant private home, where guests are personally welcomed and hosted by the owners, Comte & Comtesse de Vanssay (she is Anglo-American, he is 20th generation at his family chateau). Château de La Barre is located within a 100 acre private park with romantic gardens and XVIth century fortifications.
All the rooms, replete with magnificent antiques, family portraits and designer fabrics, combine elegance, authenticity, understated refinement with all the important modern comforts. Rooms can be booked individually, or for larger groups, the entire chateau of 12 bedrooms can be privatized.
Your hosts can then set up a tailor made exclusive programme "By Invitation Only" for you, including luncheons, tea receptions, cocktails and visits by the owners of other private châteaux of the area, normally unopen to the public.
Every stay booked by SEH includes VIP welcome with tea and cider from the property, complimentary use of the internet office and onsite bicycles, flowers from the garden and portwine in the rooms, a private visit of the château by the Comte de Vanssay, assistance with sightseeing maps and restaurant reservations and transfer arrangements, and tax.
All rooms are decorated with precious XVIIIth century antiques, oil paintings and vibrant designer fabrics. The linens are embroidered Egyptian cotton, the toiletries Roger & Gallet. There is also a self catering cottage on site, which can be booked on a weekly basis.

Local Attractions
Château de La Barre is conveniently located less than 2 hours from Paris, between Chartres and the beginning of the Loire Valley, makes a wonderful base for exploring this magical region by car. Your hosts will assist you with the rental car arrangements or book a private English speaking chauffeur for you.
Château de La Barre hosts classical concerts throughout the summer season and organizes sight-seeing trips to nearby medieval Le Mans, famous Chenonceau, and Amboise, with Renaissance lunches in Leonardo da Vinci's Priory hosted by historic gourmet chef Sieur Sausin.
During the summer, the magical Sound & Light show of the medieval Plantagenet city of Le Mans, stage set to numerous historic films, is spectacular.
From Spring to Indian Summer, the many romantic gardens and arboretums of the region, referred to as the "Gardens of France", will enchant horticultural enthusiasts and lovers of beauty and nature. Throughout the year, wine tastings can be arranged at reserve wineries, farmers markets suggested and reservation made at the various gourmet havens tucked away in the picturesque neighboring villages.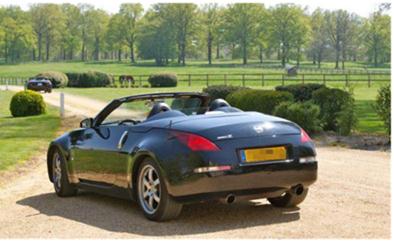 Auto Adventures

While staying as private guests of Comte and Comtesse de Vanssay, automobile lovers can enjoy driving a Ferrari 430GT, Lamborghini Gallardo or Pescarolo Prototype around the world famous racetrack in Le Mans. This exclusive 3-night package includes:

Accommodation in one of the elegant rooms of the château
Champagne welcome, flowers and port wine in your
room

A memorable Grand Siècle candlelit dinner in the prestigious XVIIth century dining room on one night
A wine and cheese tasting supper in the XIVth century billiard room on another night
Daily English breakfast and afternoon tea

Those who want to take a slower path can meander along bucolic country roads, through picturesque villages and along the shady banks of the little Loir river, away from the crowds in the convertible cabriolet of your choice, complete with maps and GPS, automatic or stick shift. An exclusive 3-night stay includes:

A memorable Grand Siècle candlelit dinner in the prestigious XVIIth century dining room on one night
Champagne welcome, flowers and port wine in your room
Daily English breakfast and afternoon tea
Pick up and drop off at the Le Mans train station (direct TGV fast speed trains from Paris city and Charles de Gaulle airport) with your cabriolet car

Call Small & Elegant Hotels International today for rates and availability.
Press Reviews
THE TELEGRAPH, January 3rd, 2011
The 50 best hotels in the world
Château de la Barre, Sarthe dépt (near the Loire Valley, France)
"The de Vanssay family has occupied the honey-stoned chateau since the 15th century. The present, 20th count and his Anglo-American countess welcome you as if all those centuries have been building up to your arrival. There's a convivial voluptuousness about the public rooms and bedrooms, all restored in the brightest possible period style. Stateliness is softened by civilised gaiety – notably at dinner with the hosts. Outside, the chateau grounds stretch for ever. Beyond them, the Loire Valley."

THE SUNDAY TIMES, May 23, 2010
The hot 100 best hotels in Europe
Chateau de la Barre, Pays de la Loire
"The de Vanssay family have been in this stupendous chateau since the 15th century — and they've apparently spent all that time building up to your arrival. The welcome from the French count and his Anglo-American countess couldn't be more cultivated or enthusiastic. They've infused castle and bedrooms with warmth and bright colour, and the gardens and grounds go on for ever". 02 43 35 00 17, chateaudelabarre.com
THE SUNDAY TIMES, May 23, 2010
It is not just the fact that the chateau has been renovated impeccably, and the rooms are elegant and wonderfully comfortable, it's also the graciousness of Marnie and Guy that charms everyone who walks in their doors. They're the kind of people one likes immediately, genuine and fun, who are comfortable in their own skins. But I don't want to tell you too much about the chateau and spoil Guy's superb tour of his family estate.
THE HUFFINGTON POST, July 30th 2010.
Call or e-mail for rates and availability
Chambre Rose:
ensuite large single rooms from 180 Euros

Chambre Esprit de Jouy Bleue:ensuite large single rooms from 180 Euros

Chambre aux Fleurs:
a double bedded room (queen size) with ensuite jacuzzi bath, It is possible to add on a small single sharing the bath from 220 Euros

Chambre Bleue:
a double bedded room (king size) with juliet balcony overlooking the garden and park, ensuite large shower and small dressing room from 250 Euros

Chambre Jaune:
a double bedded room (queen size) overlooking the garden and park, with ensuite bath from 250 Euros

Chambre Esprit de Jouy Verte:
a romantic double room (380sqf) with a king size four poster bed, juliet balcony overlooking the garden and park and ensuite bath from 300 Euros

Chambre Marin:
a vast (580sqf) double room with king size double bed, ensuite bath (and shower in 2012) and three windows overlooking the garden and park. Adjoining to Chambre Marin, it is possible to add on the Chambre Louis XV, a small double sharing the bath from 330 Euros
Map and Directions