Special
Casa Vacanze Feraguzzo - Villa Padronale
Eastern Tuscany, Arezzo, and Cortona, Italy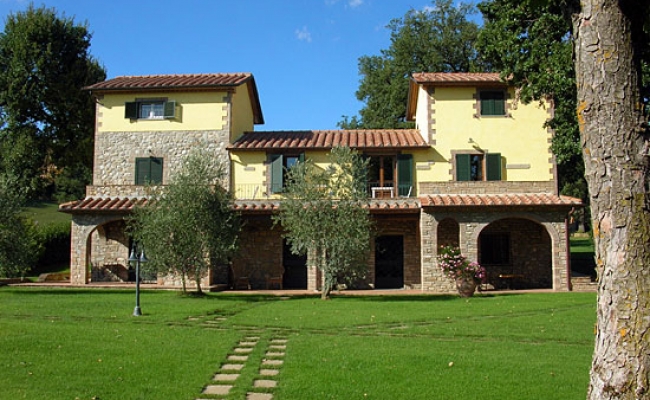 Four days and nights in the heart of Eastern Tuscany, Cortona and Arezzo with two meals a day, including some special Christmas feasts, lodging and guided tours of well-known sites in Citerna, Sansepolcro and Arezzo all for only 595 Euros per person total, tax, lodging, meals and guides included.
December 23rd
Arrival and Dinner in a typical Tuscan tavern (menu including starters, pasta, meat, dessert)
December 24th
Breakfast, then guided tour of Sansepolcro: cathedral, town's museum (hosting The Resurrection by Piero della Francesca, the Church of San Rocco and Rosso Fiorentino).
Departure for Citerna (top photo) and visit of the town walls, the "cistern", the Madonna by Donatello and panoramic viewing from the top terrace. Return to the villa and Christmas Eve's amazing dinner.
Christmas Day
Breakfast, worship as desired by guest followed by short walk in the countryside surrounding the villa. Christmas lunch and leisurely afternoon. Trip to the widely-appreciated Ghignoni ice-cream shop.
December 26th
Departure for Arezzo, renowned town of arts, with visits to the Cathedral, Piazza Grande, the open markets and break in the town center. Return to the villa in the afternoon for dinner in the evening.
December 27th
Breakfast and departure.
Testimonials
"Thanks for all of your help Bonnie. You have a nice staff also. Very accommodating when I call." -- Virtuoso agent